GLOBAL TRAINING

A highly specialized training institute intended to meet the customized training requirements of Omanisation programmes in highly skilled areas. The Training programmes are customer specific and driven by the relevant organisation?s manpower planning and skill requirements. Having a reputed international tie-up and also with a universal recognized certification programme, the training institute is one of its best in the country.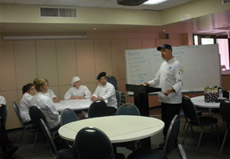 ELS ? Oman

ELS Language Centers was introduced in Oman under joint-venture control and guidance of the International Training and Educational Services company and it is the long and proven experience in English language training that gave ITES the motivation to bring ELS to Muscat.

In addition to General English programs provided, ELS has implemented two successful college and university foundation year programs for the Tourism College and Nizwa University; and most recently a joint project with the Arab Open University in Muscat has given us the opportunity to run the AOU foundation English classes in remote areas such as Nizwa, Sohar, and Salalah. A variety of ESP programs have also been developed and executed with companies such as Nawras, Oman Mobile, Bank Dhofar and Royal Oman Police as well as with several Ministries in the Sultanate.
In addition to the above we are in the finalization stage

? With a prestigious International University in
India for tie-up in Tourism education and

? With an Internationally acclaimed European
University for Senior Management Programmes